Today's flags are very special to me because they represent what I consider to be two of my birthrights.  A birthright is "a particular right of possession or privilege one has from birth."  So, you ask, how does that play out here?
First I will take these flags one at a time.
The first flag to consider, and the only one for today, is that of California.  I was born in California in 1969 and while I have also legally resided in New York state and Georgia, California always felt like home and it was hard for me to live elsewhere.  As far as California itself goes I think I have lost track of all the different places and cities I have lived in throughout the state!  My birthright connection to California is granted by virtue of my having been born in California and of having lived the majority of my life in the state as well.
The first flag unique to the state of California was flown in 1836 in Monterey, at the time the capital of the California territory held my Mexico.  There is but a single original example of this flag left, held at the Autry Museum of the American West in Los Angeles.
The first incarnation of the grizzly bear flag we know today was created and flown in Sonoma in June 1846.
The design of the "Bear Flag" would change over the years and until the middle of the 20th century the design was not standardized, meaning that flags sewn by different manufacturers would vary in appearance.
The Bear Flag we know today was more or less established by 1911 but it wasn't until 1953 that the California State Legislature formally established the design and colors of the official state flag.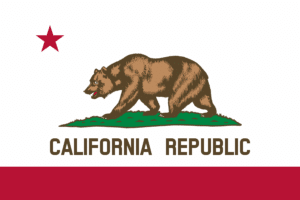 In case you were wondering about the bear on the flag, it is believed that earlier versions of the flag actually featured a black bear (Ursus americanus)  instead of a grizzly bear (Ursus arctos horribilis).
It is believed that the bear on at least one of the 1911 versions of the flag was modeled on the last California grizzly bear in captivity.  The bear, named "Monarch", was captured in 1889 at the behest of William Randolph Hearst.  The bear was subsequently moved to Woodward's Gardens in San Francisco, and then to the zoo at Golden Gate Park. After the bear's death in 1911, it was mounted and preserved at the California Academy of Sciences at Golden Gate Park.
Today the grizzly bear exists in California only on its flag; the bear is otherwise extinct in California.
In my next post we will undertake to better understand my birthright connection to the Rainbow Flag.