Iran's airports are improving their international connections, and Arak Airport in Markazi province has recently begun to operate international flights, making a total of five such airports in the country, in addition to ten local airports. In May 2007 international flights into the capital, Tehran, were moved to the Imam Khomeini International Airport (IKIA), just outside the city because of capacity constraints at the existing central Mehrabad Airport.
Airports: 319 (2013)
There are 54 "major" airports in Iran (2008): 8 international, 21 air border, and 25 domestic.
Iran Air handles 6 million passengers annually (2016)
Flag of Iran:
The flag of Iran, also known as the Three-Coloured Flag, is a tricolour comprising equal horizontal bands of green, white and red with the national emblem ("Allah") in red centered on the white band and the takbir written 11 times in the Kufic script in white, at the bottom of the green and the top of the red band.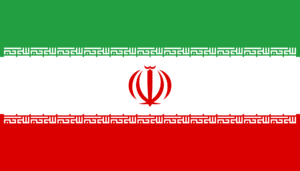 This flag was adopted on 29 July 1980, as a reflection of the changes brought about by the Iranian Revolution of 1979, which resulted in the replacement of 2,500 years of continuous Persian monarchy under Mohammad Reza Shah with an Islamic Republic under the Grand Ayatollah Ruhollah Khomeini, the leader of the revolution, supported by a wide range of Islamist organizations and student movements. In opposition to the current regime in Iran, a number of Iranian exiles (particularly in Los Angeles) continue to use the Iranian tricolor with the Lion and Sun at the center.
The parliament of Iran, per the 1980 constitution, changed the flag and seal of state insofar as the Lion and Sun were replaced by the red emblem in the center of the flag. Designed by Hamid Nadimi, and officially approved by Parliament and the Leader Grand Ayatollah Khomeini on 9 May 1980, this emblem is a highly stylized composite of various Islamic elements: a geometrically symmetric form of the word Allah ("God") and overlapping parts of the phrase lā ʾilāha ʾillā l-Lāh, (There is no God Except Allah), forming a monogram in the form of a tulip it consists of four crescents and a line. The tulip shape of the emblem as a whole memorializes those who have died for Iran and symbolises the values of patriotism and self-sacrifice, building on a legend that red tulips grow from the shed blood of martyrs.
Written in white and repeated eleven times on the inner edges of each the green and the red band is the phrase Allahu Akbar (God is the greatest) in a stylized version of the kufic script. This symbolizes the calls of Allahu Akbar on the night of 22 Bahman (11 February 1979) when the national radio of Iran broadcast: "From Tehran, the voice of the Islamic Republic of Iran" and marked the unofficial beginning of the Islamic Republic (with the official day being 2 May).