A major oil discovery in 1928 brought prosperity to the state, especially Lea County and the town of Hobbs.  Drilled to 4,330 feet and completed a few months later, the well produced 700 barrels of oil per day on state land.
During World War II, the first atomic bombs were designed and manufactured at Los Alamos, a site developed by the federal government specifically to support a high-intensity scientific effort to rapidly complete research and testing of this weapon.  The first bomb was tested at Trinity site in the desert between Socorro and Alamogordo on what is now White Sands Missile Range.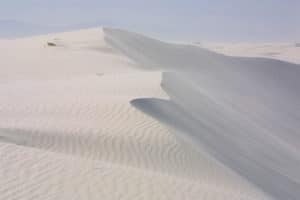 New Mexico has benefited greatly from federal government spending on major military and research institutions in the state.  It is home to three Air Force bases, White Sands Missile Range, and the federal research laboratories Los Alamos National Laboratory and Sandia National Laboratories.
The state's population grew rapidly after World War II, growing from 531,818 in 1940 to 1,819,046 in 2000.  Both residents and businesses moved to the state; some northerners came at first for the mild winters; others for retirement.
In the late 20th century, Native Americans were authorized by federal law to establish gaming casinos on their reservations under certain conditions, in states which had authorized such gaming.  Such facilities have helped tribes close to population centers to generate revenues for reinvestment in economic development and welfare of their peoples.
In the 21st century, employment growth areas in New Mexico include microelectronics, call centers, and Indian casinos.
Economy:
Oil and gas production, tourism, and federal government spending are important drivers of the state economy.  State government has an elaborate system of tax credits and technical assistance to promote job growth and business investment, especially in new technologies.
New Mexico is the third-largest crude oil and ninth-largest natural gas producer in the United States.  The Permian and San Juan Basins, which are located partly in New Mexico, account for some of these natural resources.  In 2000 the value of oil and gas produced was $8.2 billion, and in 2006, New Mexico accounted for 3.4% of the crude oil, 8.5% of the dry natural gas, and 10.2% of the natural gas liquids produced in the United States.
Many of the federal jobs relate to the military.  A May 2005 estimate by New Mexico State University is that 11.65% of the state's total employment arises directly or indirectly from military spending.
New Mexico provides a number of economic incentives to businesses operating in the state, including various types of tax credits and tax exemptions. Most of the incentives are based on job creation.
The state provides financial incentives for film production.  The New Mexico Film Office estimated at the end of 2007 that the incentive program had brought more than 85 film projects to the state since 2003 and had added $1.2 billion to the economy.
Transportation:
Overview:
New Mexico has long been an important corridor for trade and migration including in pre-historic times.