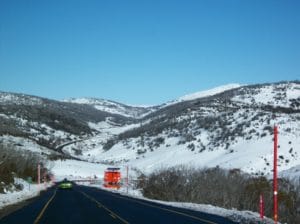 Agriculture, particularly the wool industry, is important throughout the highlands. Major centres include Armidale, Bathurst, Bowral, Goulburn, Inverell, Orange, Queanbeyan and Tamworth.
Economy:
Since the 1970s, New South Wales has undergone an increasingly rapid economic and social transformation. Old industries such as steel and shipbuilding have largely disappeared; although agriculture remains important, its share of the state's income is smaller than ever before.
New industries such as information technology and financial services are largely centered in Sydney and have risen to take their place, with many companies having their Australian headquarters in Sydney CBD. In addition, the Macquarie Park area of Sydney has attracted the Australian headquarters of many information technology firms.
Coal and related products are the state's biggest export. Its value to the state's economy is over A$5 billion, accounting for about 19% of all exports from NSW.
Tourism has also become important, with Sydney as its center, also stimulating growth on the North Coast, around Coffs Harbour and Byron Bay. Tourism is worth over $25.1 billion to the New South Wales economy and employs 7.1% of the workforce. In 2007, then-Premier of New South Wales Morris Iemma established Events New South Wales to "market Sydney and NSW as a leading global events destination". In July 2011 Events NSW merged with three key state authorities including Tourism NSW to establish Destination NSW (DNSW).
On 9 October 2007 NSW announced plans to build a 1,000 MW bank of wind powered turbines. The output of these is anticipated to be able to power up to 400,000 homes. The cost of this project will be $1.8 billion for 500 turbines. On 28 August 2008 the New South Wales cabinet voted to privatise electricity retail, causing 1,500 electrical workers to strike after a large anti-privatisation campaign.
The NSW business community is represented by the NSW Business Chamber which has 30,000 members.
Agriculture is spread throughout the eastern two-thirds of New South Wales. Cattle, sheep and pigs are the predominant types of livestock produced in NSW and they have been present since their importation during the earliest days of European settlement. Economically the state is the most important state in Australia, with about one-third of the country's sheep, one-fifth of its cattle, and one-third of its small number of pigs. New South Wales produces a large share of Australia's hay, fruit, legumes, lucerne, maize, nuts, wool, wheat, oats, oilseeds (about 51%), poultry, rice (about 99%), vegetables, fishing including oyster farming, and forestry including wood chips. Bananas and sugar are grown chiefly in the Clarence, Richmond and Tweed River areas.
Wools are produced on the Northern Tablelands as well as prime lambs and beef cattle. The cotton industry is centered in the Namoi Valley in northwestern New South Wales. On the central slopes there are many orchards, with the principal fruits grown being apples, cherries and pears.
About 40,200 hectares of vineyards lie across the eastern region of the state, with excellent wines produced in the Hunter Valley, with the Riverina being the largest wine producer in New South Wales.