About half of Australia's timber production is in New South Wales. Large areas of the state are now being replanted with eucalyptus forests.
Transportation:
Passage through New South Wales is vital for cross-continent transport. Rail and road traffic from Brisbane (Queensland) to Perth (Western Australia), or to Melbourne (Victoria) must pass through New South Wales.
Railways:
The majority of railways in New South Wales are currently operated by the state government. Some lines began as branch-lines of railways starting in other states. For instance, Balranald near the Victorian border was connected by a rail line coming up from Victoria and into New South Wales. Another line beginning in Adelaide crossed over the border and stopped at Broken Hill.
Railways management are conducted by Sydney Trains and NSW TrainLink which maintain rolling stock. Sydney Trains operates trains within Sydney while NSW TrainLink operates outside Sydney, intercity, country and interstate services.
Both Sydney Trains and NSW TrainLink have their main terminus at Sydney's Central station. NSW TrainLink regional and long-distance services consist of XPT services to Grafton, Casino, Brisbane, Melbourne and Dubbo, as well as Xplorer services to Canberra, Griffith, Broken Hill, Armidale and Moree. NSW TrainLink intercity trains operate on the Blue Mountains Line, Central Cost & Newcastle Line, South Coast Line, Southern Highlands Line and Hunter Line.
Roads:
Major roads are the concern of both federal and state governments. The latter maintains these through the Department of Roads and Maritime Services, formerly the Roads and Traffic Authority, and before that, the Department of Main Roads (DMR).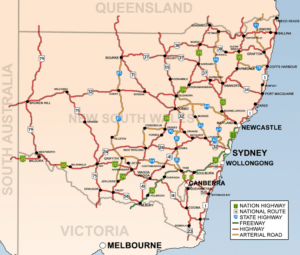 The main roads in New South Wales are:
Air:
Kingsford Smith Airport (commonly Sydney Airport, and locally referred to as Mascot Airport or just 'Mascot'), located in the southern Sydney suburb of Mascot is the major airport for not just the state but the whole nation. It is a hub for Australia's national airline Qantas.
Other airlines serving regional New South Wales include:
Ferries:
Harbour City Ferries operates ferries within Sydney Harbour and the Parramatta River, while Newcastle Transport has a ferry service within Newcastle. All other ferry services are privately operated.
Flag of New South Wales:
The current state flag of New South Wales was officially adopted by the government of New South Wales in 1876.